In 2002, Akatu received help from Monica, Jimmy Five, Smudge and Maggy from the comic book "Monica's Gang" in raising awareness about conscious consumption among children and teenagers. Three stories were specially created for Akatu addressing the following themes: water, energy and natural resources. Each comic came with reference materials and teaching resources. The comics were distributed to children in 25 different states via the AABB Community Program.
CONSCIOUS CONSUMER GUIDE ON THE JORNAL DA TARDE
In 2006, Akatu produced a tailored guide for the newspaper Jornal da Tarde, introducing its readers to the concept of conscious consumption and its importance for building a more sustainable future, and suggesting practices that can be adopted in our day-to-day lives. The guide took up two pages of the newspaper, which has a print run of 95,000 copies. Ten thousand copies were distributed to schools, markets and events in São Paulo.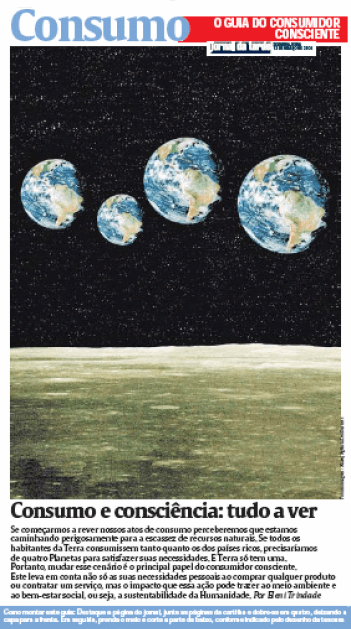 CONSCIOUS WATER CONSUMPTION GUIDE
In 2006, Akatu developed a step-by-step guide to help staff at Unibanco adopt conscious water consumption habits. The guide was made available to all Unibanco partners interested in implementing projects to raise staff awareness of conscious water consumption.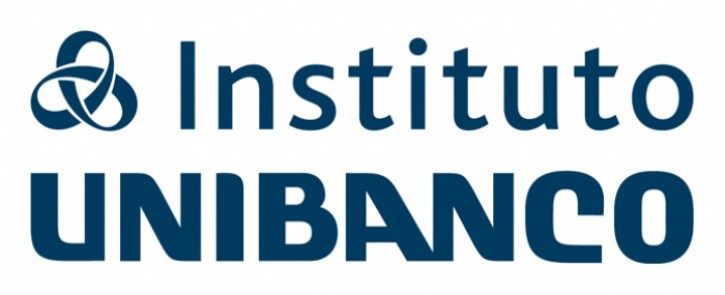 HANDBOOK OF ETIQUETTE FOR USING THE PLANET
As part of the State of Bahia's 2007 Christmas Campaign, Akatu created a handbook to raise awareness among retailers and consumers so that they could make purchasing choices that minimize social and environmental impact during the festive period. The handbook, produced in partnership with the Bahia State Department of the Environment and the NGO Voluntárias Sociais da Bahia, was distributed in shopping malls in the capital and other major cities in the state.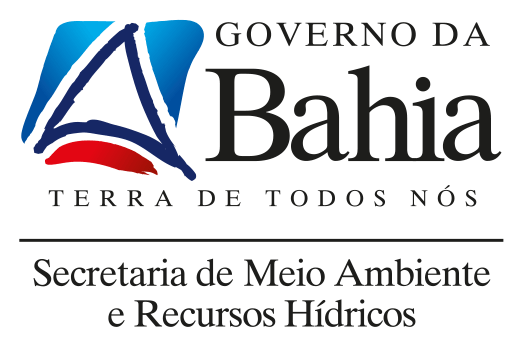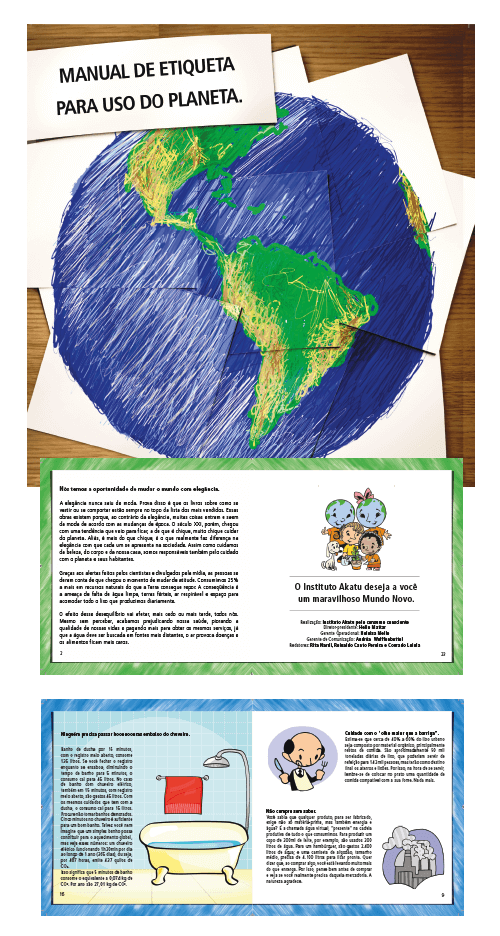 In 2016, Akatu created a special tray liner for McDonald's with tips and information on conscious consumption. The liner was used in more than 900 shops for three months. Entitled "The World We Want", the content of the liner showed how the way we buy, use and dispose of products impacts individuals, society and the environment. The liner also suggested practices that consumers could incorporate into their day-to-day lives so that they can make purchasing choices that minimize social and environmental impact.
Showing the impact of our consumption in a straightforward and easy-to-understand manner using examples from everyday life. That's the concept behind the Akatu Tips, animated explainer videos that we have been making since 2002 to raise awareness and mobilize consumers to adopt conscious consumption habits. The videos address a broad range of themes — water, energy, waste, food, carbon footprints and making conscious buying decisions, among others — and make it clear that the repetition of conscious consumption practices for a long period of time and/or by large numbers of people can greatly reduce our impact on the world. Between 2015 and 2016, 168 Akatu Tips were aired on digital display screens on buildings and in shopping malls, universities, hotels and gyms, through a partnership with the digital media company Elemidia. In 2019, another 40 Akatu Tips were shown on TVs in subway stations and trains in São Paulo and Rio de Janeiro, in partnership with Eletromidia.
Akatu also produced tips for individual companies using the results of their own sustainability actions. By using an equivalencies calculator, the impacts of these actions are converted into easy-to-understand figures. The Akatu Tips for companies can be used for both internal and external communications and for raising staff awareness.
How's about a bit of humor to promote conscious water consumption? With this idea in mind, in 2012, Akatu and the advertising agency Leo Burnett Tailor Made launched the "Fake Shower" app. The app mimics the sound of the shower or a running tap, so those who need the sound of running water to pee don't need to turn on the tap or shower, saving water. The app also shows how much water you save by using the app instead of turning on the shower or the tap.
Fun content using accessible language was the essential difference in "Akatu for Children", a site created in 2011 to take the theme of conscious consumption to children aged between 6 and 12 years. The site's animated videos, games, illustrations and features encouraged learning about topics such as the origin of products, natural resource use, proper waste disposal and recycling. The site was easy to navigate and interactive, thus facilitating learning.
Created in 2019, the GrubMania app encourages children and teenagers to adopt conscious eating habits and a balanced diet using food label-reading. Jointly created by Akatu and teenagers from public schools in different regions of the country, the app brings a regional perspective on food in a creative and interactive manner. The app was developed with the support of the consultancy firm Movimento Coletivo and was suggested as an activity to Edukatu's 45,000 plus users. Download GrubMania for
iOS
and
Android
.
Our goal is that teenagers develop nutrition awareness and take it into their adult life.
Laura Couto, head of Movimento Coletivo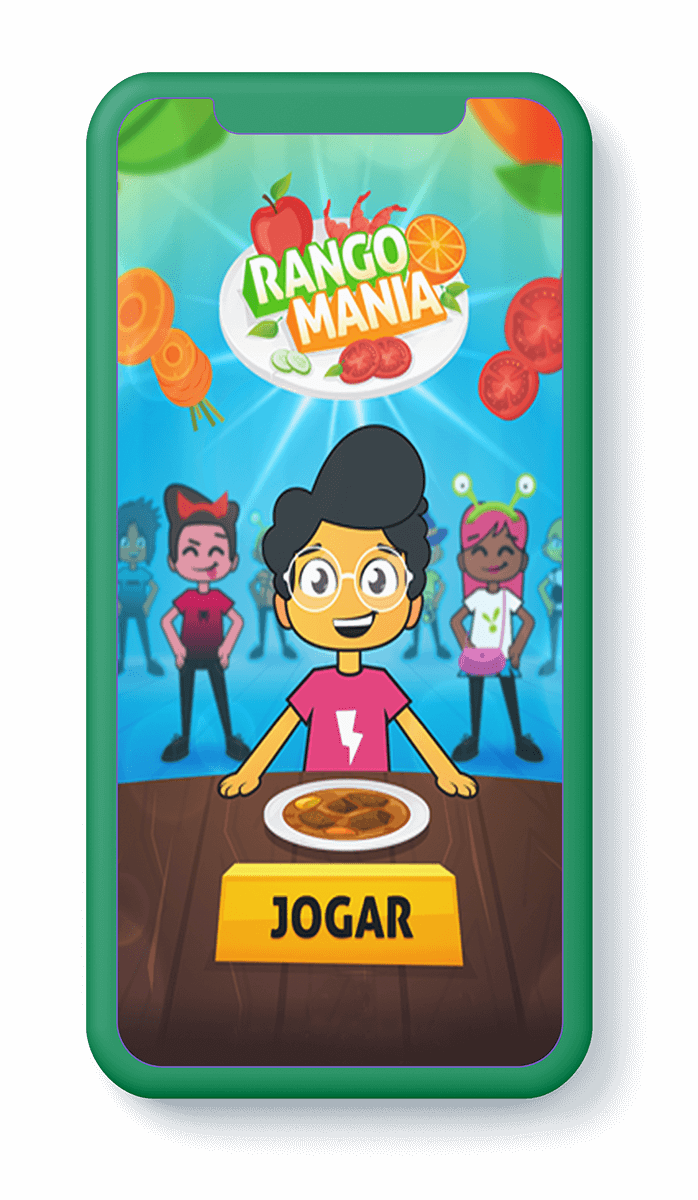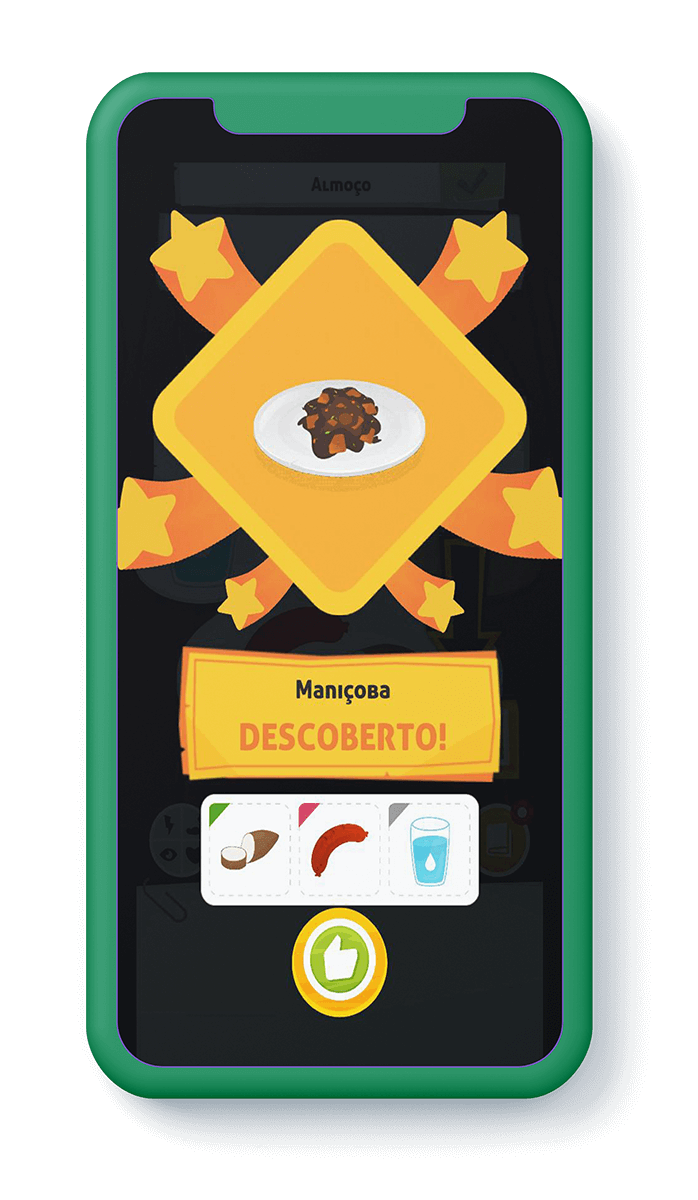 COLLECTIVE CONSCIOUSNESS SERIES
Between 2009 and 2010, Akatu produced a series of 10 animated videos in partnership with the educational television channel Canal Futura and HP. The series was aired on Canal Futura and its
YouTube channel
. Using hefty dose of humor, the series stimulates reflection on the environmental, economic and social impacts of current consumption and production trends and illustrates the transformative power of consumers and the adoption of conscious consumption habits. The series addressed issues such as climate change, waste, energy, water and lifestyles, among others. In 2011, Akatu also produced an educational kit containing a Collective Consciousness DVD and booklet with reflections and teaching tips — 1,000 kits were handed out to educators and elementary and junior high schools.
Working with Akatu in the production of the "Collective Consciousness" video series was one of Canal Futura's most relevant initiatives. By combining Akatu's quality content with innovative and fun language, the series made a major contribution to raising young people's awareness of environmental issues, and provided undoubtedly important resources to Brazil's teachers.
Lucia Araujo, General Manager of Canal Futura (2010)
MORE SUSTAINABLE BUSINESS, MORE CONSCIOUS CONSUMPTION WEBSERIES
Produced in 2019, the webseries shows how consumer behavior can influence company decision-making. The series consists of nine episodes featuring interviews with executives from different companies — Braskem, Coca-Cola, GPA, Unilever, Dow, Santander, BASF, Ypê and Grupo Boticário — talking about the challenges faced by their organizations and achievements in contributing towards building a healthy and sustainable future. The webseries was published on Akatu's YouTube channel.
Watch the webserie (in Portuguese)
.
47,000
people reached
in six months
In 2014, Akatu partnered with the Brazilian Federation of Banks to develop three conscious consumption apps. The Our Energy app calculated household electricity consumption and suggested ways of minimizing use; the Our Food app offered affordable healthy food tips; and the Our Water app showed simple everyday ways of saving water. All the apps used educational and fun content.